Free-standing coat racks
Our free standing coat racks fits to every type of architecture both on a practical and an aesthetic level. Whether you want to furnish a foyer or a meeting room, our coat racks of the highest quality materials aluminium and stainless steel allows you to offer your guests a place to hang their coats.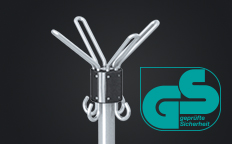 Free standing coat rack STDK
The free standing coat rack STDK is a stylish coat rack that seamlessly integrates into the surrounding architecture. Wether you want to put it up in the reception area or ...